SUSTAINABILITY
Environment
Environmental management
ARE Holdings Group contribute to protect Earth's natural resources through business activities of precious metal recycling and environment preservation, in which activities we consume resources and energies meanwhile.
Setting our "Environmental Policies" to aim for minimizing environmental burdens, we pursue the environment-conscious operations in which an optimal balance can be achieved between environmental burden controls and generated economic values.
In addition, the Group encourages acquisition of ISO14001 certification, the international standard for environmental management, and works to reduce global environmental impact in accordance with this standard.
Environmental policies
We, ARE Holdings Group, will contribute to the environmental preservation of the earth and establish a sound material-cycle society through the company's businesses on recycling of precious and rare metals and industrial waste treatment.
In all business activities we will strive to conserve resources and energy and reduce, reuse, and recycle waste to minimize the environmental burden.
We will promote the recycling of resources of precious and rare metals to achieve a more effective use of the limited resources of the earth.
We will adequately and safely perform our operations for the collection, transportation, and treatment of industrial waste to prevent environmental pollution.
We will prioritize a harmonious coexistence with nature and regional communities. We will strictly follow the relevant environmental laws and regulations and other requirements which we recognize.
We will establish environmental objectives and targets and periodically review them to continue improving our activities.
We will educate all our employees and increase their environmental awareness as members of the community, promote their understanding of environmental preservation activities, and participate in such activities.
These environmental policies shall be conveyed to all of our employees and all those working for the company and announced to the public as our commitment.
Environmental Management Promotion System
Every year we develop Company-wide Environmental Goals based on our Environmental Policy, which sets out our environmental preservation philosophy.According to the above-established purposes and goals, each ISO 14001 certified site in Japan develops its own Annual Environmental Goals and implements environmental preservation activities closely related to their business tasks. In addition, the Environment Committee of each site deliberates on such matters as compliance with environmental laws and regulations, revisions of plans and environmental education, and provides reports to management. While the ISO Office controls the environmental management system (EMS), an environmental preservation administrator is also assigned for each site in order to ensure thorough implementation of environmental initiatives.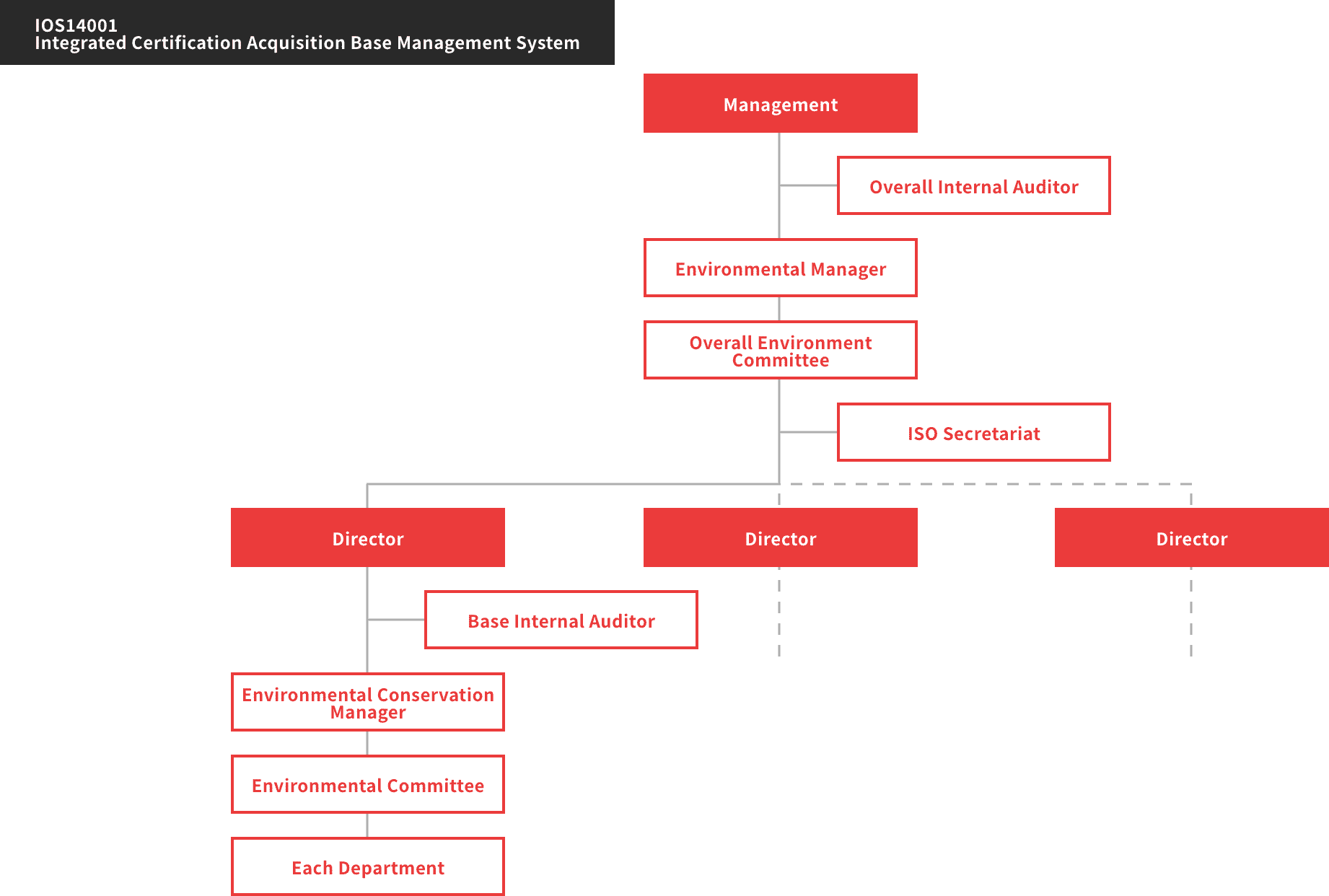 Social
Responsible Management of Precious Metals
To ensure that our customers around the world can use our precious metal products free from concerns, we have established a control system in accordance with guidance from bodies such as the OECD, the LBMA and the LPPM, with inspection and certification by third-party organizations.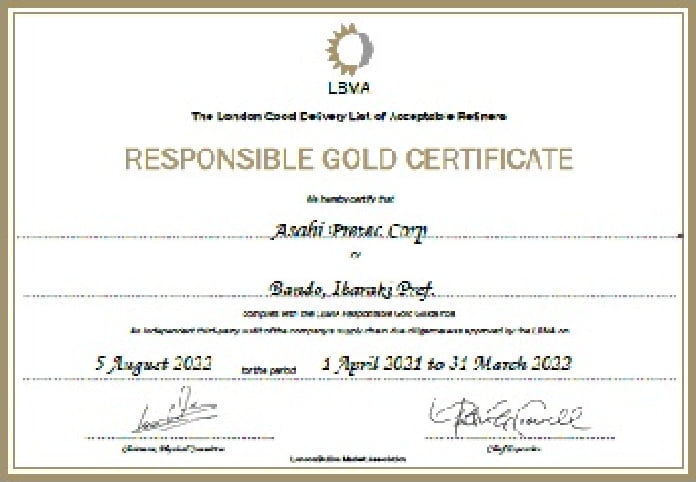 In July 2019, Asahi Pretec became the first Japanese refiner to obtain the Code of Practices (COP) certification from the Responsible Jewellery Council (RJC). In July 2021, the company also obtained the Chain of Custody (COC) certification. The RJC is an international non-profit organization that promotes ethical, socially responsible and environmentally responsible handling of gold, platinum, diamonds and other precious metals in the jewelry industry from mining to retail. Asahi Pretec's operations meet the RJC's strict standard for code of practices on ethics, human rights, society, and the environment, due diligence and traceability, and the company is now the only refiner in Japan to achieve both the RJC's COP and COC certifications. Asahi Pretec will continue to undertake business activities and initiatives in compliance with RJC standards and fulfill its responsibilities as a member of the precious metals supply chain.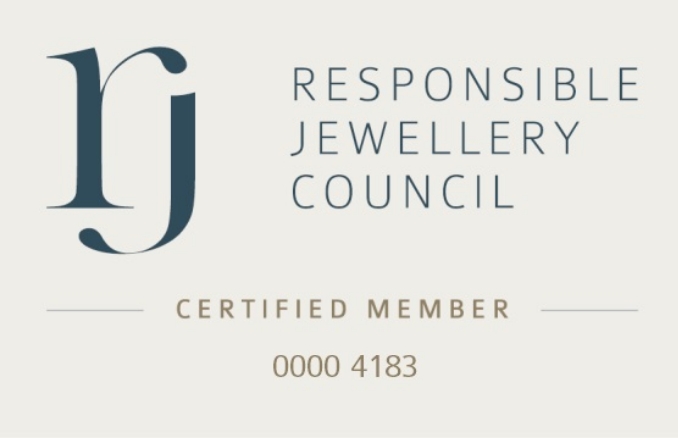 Responsible Management of Precious Metals
ASAHI METALFINE, Inc. has established a Responsible Precious Metals Management Policy for the precious metals supply chain, with the aim of avoiding human rights violations in conflict zones, money laundering, fraudulent transactions, and funds going to terrorists. To achieve this, we have set up a responsible precious metals management system that complies with LBMA, LPPM and RJC guidance. The system is also maintained and improved by obtaining certification from a relevant third-party organization and by undergoing regular independent audits.
In order to support one of the Group's priority SDG-related goals -- supplying precious metals in ways that are friendly to people, society, and the environment -- Asahi Pretec is striving to help build and maintain the Asahi brand. We want to ensure that our brand can be trusted by customers around the world, allowing them to procure precious metal products that help protect human rights and the environment.
G.Governance
Risk management
Compliance
We consider compliance a priority issue in delivering fair business activities and ensuring legal compliance and high ethical standards. Particularly, operations related to appropriate processing of wastes are based on environmental laws and regulations as well as governmental licenses, and each and every employee is required always to act with a highly compliant mindset. We are conducting activities to raise the legal compliance awareness of each and every employee through education and mutual communication, along with rules and manuals related to compliance.
Internal Reporting System (Whistle-Blowing System)
To quickly identify and resolve problems such as unlawful and unjust behavior, we have set up the Asahi Hotline. All employee s in and outside of Japan can directly report to either an intern al desk or an external law firm anonymously. We take corrective actions to address the reported matters after investigation, without revealing the identity of the disclosing or disclosed parties.
Business Continuity Management (BCM)
Various factors such as large-scale disasters entail the risk of impairing the functions needed for business continuity. As an action plan to achieve quick restoration of mission-critical functions even after a disaster, we created a business continuity plan (BCP). In addition to the BCP, we are conducting systematic business continuity management activities to constantly improve the BCP and business continuity endeavors.
Information Security
The laptops and tablets used by the Group's sales force are equipped with the latest security measures. Even if a device is lost or stolen, the possibility of information leakage is virtually zero thanks to technology such as remote data wiping.
Avoiding All Interactions with Organized Crime and other Anti-social Forces
The following statement is part of our Corporate Governance Policies, and is understood by all our executives and employees. "We will never have any relationship, including business relationships, with anti-social forces which threaten the social order and sound corporate activities. In the event of an illegal request, we will take a firm attitude and respond to it organizationally in accordance with the law and internal rules."